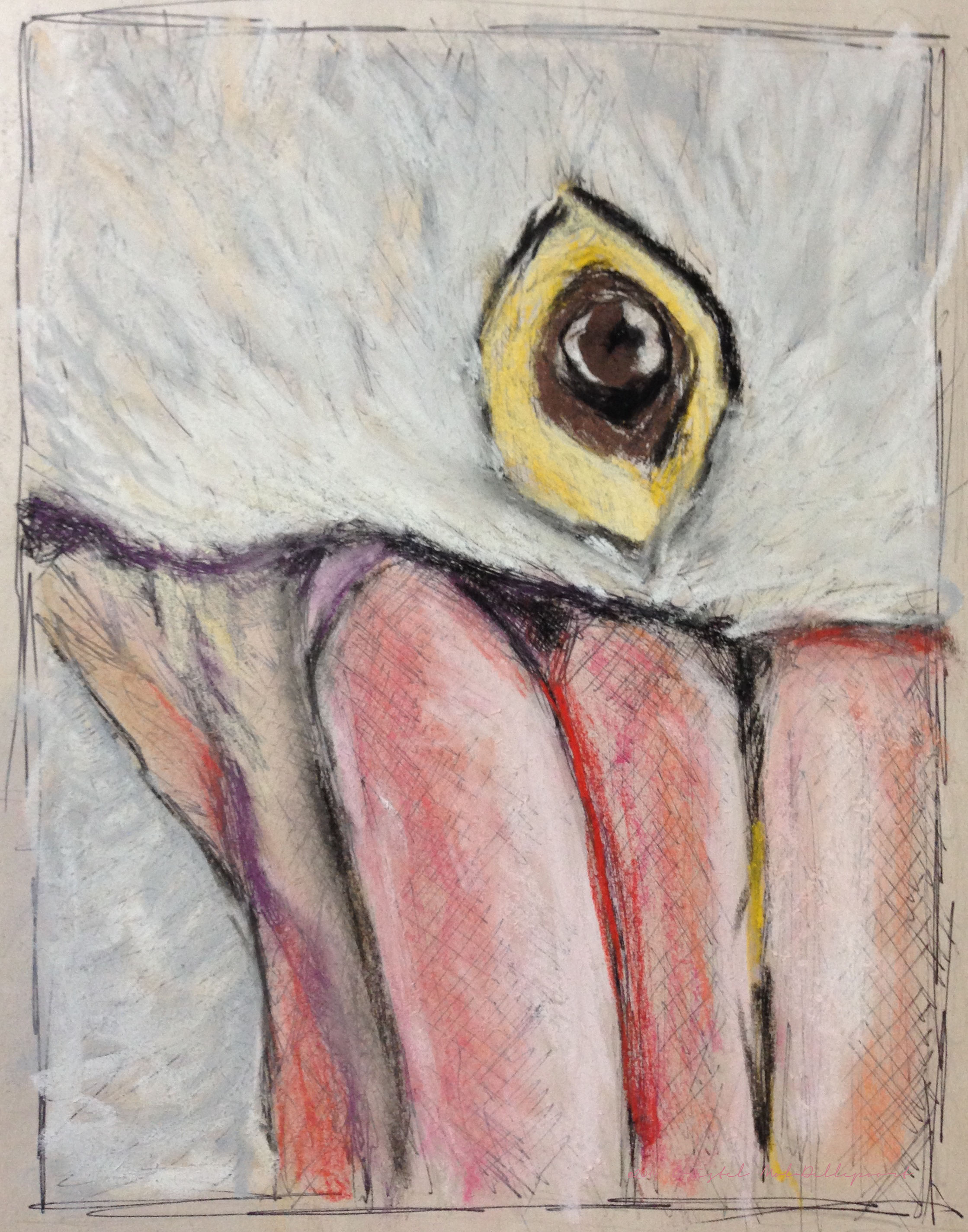 Since we've arrived back in the Low Country of South Carolina (Fripp Island, to be precise), I just love being surrounded by the marsh landscape. The marsh, the sea and the countryside here is just teeming with life. Crabs, fish, dolphins and of course birdlife galore. Wading birds like the little sandpipers that run all over the beach, resident ibis colonies that are now nesting in the trees,  as well as birds of prey like Osprey and turkey vultures. But I have to say my favourite seabird found around here is the pelican. The way they dive into the sea, with full abandon, totally committed, whether they catch something or not, is just inspirational.
I did a quick pencil sketch, which I worked on top of with thin permanent marker to work in the darker value areas. After that, I grabbed my Blick Artist soft pastels and completed the study with the colours I thought would work best. In the end, I was quite happy with the result, and I kept the pastels I used in the study set apart from the rest, so they'd be easier to find the next time. In fact, isn't it often the case that when you are most relaxed and not too worried about creating a nice, finished piece, that the sketch turns out great? That's why I've made it available for purchase in my Etsy store. 😉
Pelican's Gaze – Study in Pastel, mixed media (pencil, marker, soft pastels) on Pacon Artist newsprint paper, 8″ x 6″, original available in my Etsy store, archival art prints in many sizes available here.
A lot of my inspiration comes from flora and fauna (especially tree frogs!), many of which are endangered or their existence threatened by human encroachment, reduced habitats or pollution. Therefore, when you purchase any of my animal paintings, I donate a portion of the sale to The Wildlife Conservation Society. WCS is the world's preeminent science-based conservation organisation, founded in 1895.